Over the summer, I read a variety of books for children and one I especially enjoyed was a middle grade novel by Sara Pennypacker – Pax.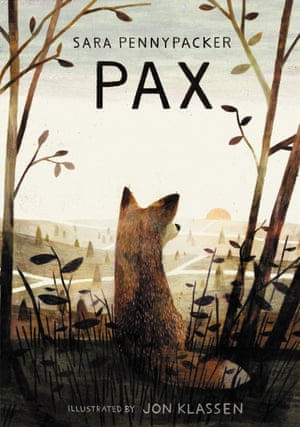 In this story, twelve-year-old Peter is forced to abandon the fox he had rescued as a kit. After five years together, they are inseparable but war is raging and the front line is approaching their home. His father joins the military and sends Peter off to live with his grandfather, three hundred miles away. As they drive off, they leave Pax behind, on the side of the road.
Once Peter arrives at his grandfather's house, he realizes he should have stood his ground and insisted on bringing Pax with him. Instead, Pax is left behind to face the dangers of war and the wild. Peter sneaks off at night and strikes out on his own to travel the 300 miles back to his fox. Pax faces challenges of his own, learning to survive in the wild but he never loses hope that Peter will return.
It was heartbreaking to read of Peter's reaction to leaving Pax, but it was even more so, to read Pax's thoughts.

The author tells the story from alternating points of view and her depiction of Pax's perspective seems totally believable. She researched fox behavior and wove that into the story beautifully. This book made me feel I could understand a fox's thinking.
It also increased compassion. Perhaps that's why I had no complaints when I discovered who has been stealing our cat's food.