The New Year has arrived; the students are back in school; and I found a great book for the first school week of 2013 – Squirrel's New Year's Resolution by Pat Miller, illustrated by Kathi Ember.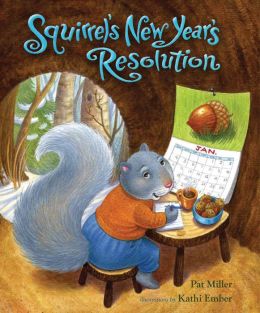 On the first day of January, while Squirrel is hanging her Nut-of-the-Month calendar, she hears the radio announcer say it's a great day to make a resolution. She is not sure what that means and so she does what any resourceful squirrel might do, she heads to her local library and asks the librarian, Bear. "Do you know how to make a resolution? Is it like making a snack?"
Bear assures her it is more important than snacks and explains, "A resolution is a promise you make to yourself to be better or to help others." By the end of the story, my students had a good understanding of resolutions and they decided to make a few of their own. Esmeralda wants to draw more pictures this year and share them with others. Maddie resolves to help people, like Squirrel in the story. Joden plans to teach people magic. Many of my second grade students actually chose to meet their speech goals for the year. I was all in favor of those resolutions and we wrote kid-friendly versions of their goals so they'd have their own copies.
Calob asked if I'd made any resolutions. I'm hesitant to make them since I become less resolved as the year goes on but I have made a New Year's "Intention." After my three-week vacation from blogging, tweeting, and reading blogs, I started thinking about finding a comfortable balance. So, my New Year's Intention for the year is to strive for balance in my life. That's a difficult concept for children to understand but they had no problem understanding the more concrete definition of the word when I showed them my balancing eagle.
The students were amazed to see the eagle stay firmly in place while they flew it around the room. We talked about other things that balance and Juan tried balancing on one foot. We even discussed balanced diets since that is a popular topic around our school.
One of my students raised his hand and told me he had a new resolution. He was going to have a balanced diet this year. He was going to balance a chocolate bar on his finger. I was about to explain in more detail what a "balanced diet" actually means when I noticed his mouth twitching into a smile. He understood perfectly. He is only six, yet he is able to slip humor into conversations on a regular basis. Not a bad way to interact with the world – a dose of humor and a bar of chocolate – talk about balance! I might incorporate his example into my own goals for the year.
With one week of school behind us, I think our New Year is off to a good start.